APR goes for efficient purchasing and stock management with Essegi Automation
Case study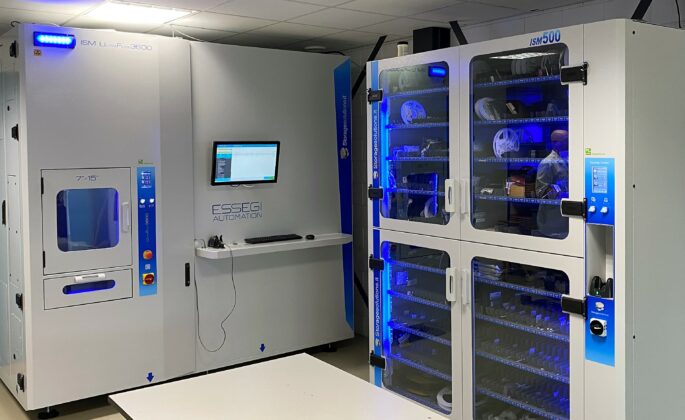 For many years APR from the Netherlands has been active in the production of electronics products and applications. They deliberately process small to medium series; this can range from 25 to 3000 pieces. Why that choice? Manager Bart van Kersbergen explains: "By producing small series, we can be very flexible towards our customers. Quality and fast delivery are our priority. Everything we produce here is always programmed and extensively tested before it leaves the warehouse."
The manufacturing industry is constantly evolving. Parts become smaller, technologies more advanced. APR is also well aware of this. "In our industry, solid robust products are necessary," says Bart. "To meet this, we have added bits of automation in our workflow without undermining the flexibility in our production."

Software for stock and purchase management
Reliable software was needed to manage the purchasing and inventory process more efficiently. Existing ERP packages did not sufficiently meet their needs. In their search for support in stock management and purchasing advice, they ended up at Smans. "Smans is the first point of contact for us when it comes to automation and digitalisation on the shop floor. We quickly found the Essegi Automation solution. Especially the implementation of this software was an important step, and again Smans guided us very well."
"There are almost daily changes in our planning. The Essegi Automation solution automatically calculates the impact on the stock when the planning changes and determines exactly what you need at that moment. What used to be in the buyer's head is now in the system and everyone can obtain a just-in-time report with purchasing advice, availability of components and so on."
In order for the software to work optimally, structure in the storage area of all electronic components was required. The Material Incoming Station in combination with the ISM3600 and ISM500 from Essegi Automation provided the solution. The ISM 3600 can store up to 3624 reels. The interior layout is managed dynamically, just like a hard disk. The software keeps track of the humidity level of each reel.
Now that the management of all SMD components is running smoothly at APR, the next step is the management of their THT components. The system they have invested in, is 100% suitable for this and knows the difference.
Benefits
What benefits is APR experiencing as a result of this investment? "Work efficiency has definitely improved. While the machine is picking our stock, our people can do other preparations. There are fewer errors when picking components. We know everything in advance, which means that we can always reliably complete a production. Finally, we save a lot of space compared to standard storage systems."
Smans – Your full-service partner!
Are you still looking for an intelligent storage system for your SMT / THT components? Do you want more traceability or MSL control? Are you looking for a solution for efficient purchase and stock management, fully integrated with your current system? As full-service partner we would like to guide you in your search!