EPAC ready for further growth with second Pick & Place
Case study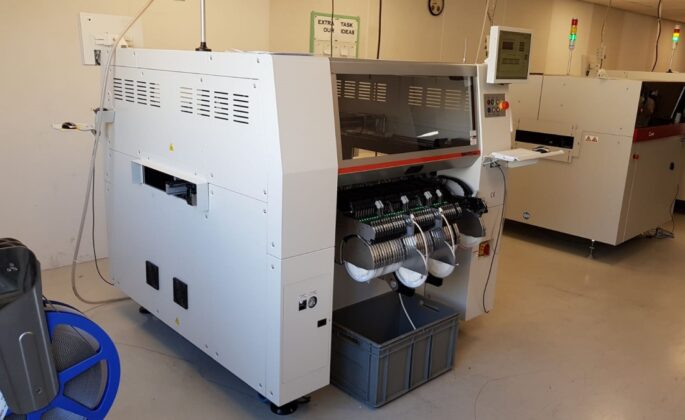 EPAC is an electronic contract manufacturer located in Weert, The Netherlands. This year EPAC realizes a growth of 40% compared to last year. A Key factor of EPAC is their "flexible attitude" without concessions on quality. The outcome of this is the need for more capacity in placing SMD components. Therefore, SMANS NV has installed the second Pick & Place machine in three years.
Pick & Place machines crucial to growth
Three years ago, SMANS NV installed the first P&P machine: a brand new Hanwha SM482 flexible mounter. This was the most logical investment to be able to maintain handling the minimization of components like 01005. This wasn´t in the specs 15 years ago, when SMANS NV delivered and installed the P&P Samsung CP40, which is still in full operation mode today. In order to maintain the growth and keep control of the flexibility and quality, EPAC also invested in a new screen printer, wave soldering and AOI system.
Second Pick & Place machine to stay flexible
The continuous growth this year led to an investment in another P&P machine. After scanning the market, SMANS NV was chosen again to supply a Hanwha SM482 flexible mounter. According to Arno Boot, the owner of EPAC: "It was a logical decision. Our operators enjoy working with the Hanwha machines on a daily basis. They really know their way around the machine." Arno continues: "Another plus is the cooperation with SMANS NV. They are professionals with a human attitude and therefore very pleasant to do business with."
EPAC's future
EPAC has set a sharply outlined course of continuous growth for the coming years. New investments in upgrading their process and capacity are realistic. SMANS NV is ready for the challenge.
EPAC has already made the first step into the set direction by investing in highly technical equipment like the Hanwha SM482 flexible mounter.
EPAC BV
Risseweg 3
6004 RM Weert
Netherlands
T +31 495 76 90 51
www.epacbv.nl
info@epacbv.nl

SMANS NV
Bremheidelaan 8,
2300 Turnhout
Belgium
T +32 14 42 44 01
smans.com
info@smans.com