Page invests with Smans in a second Ersa selective soldering machine
Case study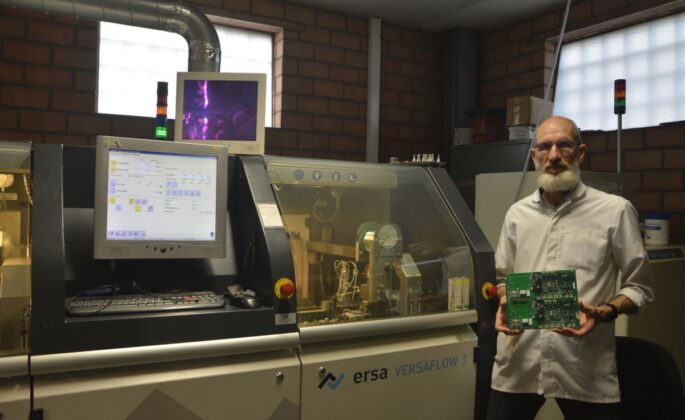 At Page Electronica in Poperinge (Belgium) Smans has recently installed a second Ersa selective soldering machine. Two years after the installation of the first Versaflow, Page has chosen to invest in a machine with a double soldering module. Page will gain double capacity with this new Ersa Versaflow to be able to meet the increasing demand.
Higher demand for selective soldering
Page Electronica noticed that their customers are increasingly choosing selective soldering. On more and more PCBs a mix of SMT and THT components can be found. This made selective soldering a necessity. Because of the increasing demand, the current machine is continually in use, so Page Electronica needed more capacity. That is why Smans has advised to equip the new Ersa selective soldering machine with a double soldering module, to divide the cycle time.
Ersa Versaflow selective soldering machine, the logical choice!
For Page Electronica, the Ersa Versaflow 3/45 was the most logical choice because of three reasons.
The first reason was also the most important one. Page has had a very positive experience with the first Ersa Versaflow. In the two years the current machine at Page has operated almost continually. The popular Ersa 3/45 is known for its velocity and high quality. Every soldering tip receives the attention it needs to solder perfectly.
The second reason is that all programs written for the first machine can be applied to the second machine as well. Writing new software programs would be very time consuming and that would cost a lot of money as well.
The final reason has to do with the fact that Page wants to have one point of contact for maintenance and service of the machines. Smans has been, and still is, that reliable and solid point of contact through all the years they have cooperated.
Strong relationship with Smans
Page is very happy with Smans's involvement in delivering and installing the new Ersa selective soldering machine. The strong relationship between Smans and Ersa provides extra certainty: Page knows the reaction time will be short, when something might occur. Page also has a long and fruitful relationship with many of the current Smans employees.
More information
Page Electronica nv
Casselstraat 210
8970 Poperinge
Belgium
T +32 57 34 67 66
www.page.be
luc@page.be
SMANS NV
Bremheidelaan 8,
2300 Turnhout
Belgium
T +32 14 42 44 01
smans.com
info@smans.com