WAAK invests in speed and quality
Case study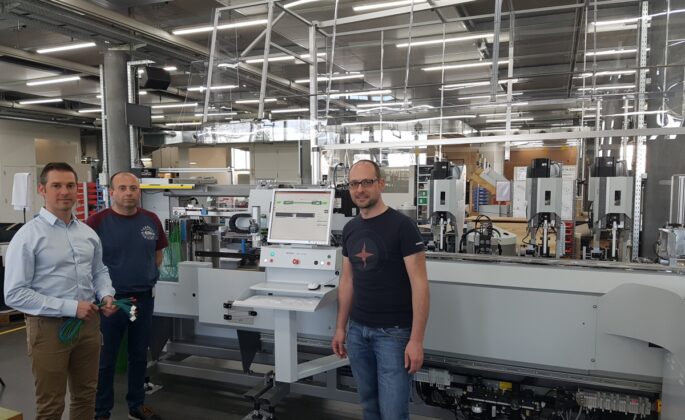 Komax Zeta 633/656 automates difficult wiring operations.
WAAK Electrical Wiring Systems has been a supplier of cable laying for more than 50 years. These systems are built by employees with a work limitation. It is WAAK's mission to offer adjusted employment to employees with a work limitation. But when the quality of the process of the manual operations cannot be guaranteed, the process is automated.
Miniaturization
Miniaturization is an important trend in technology. The lesser the weight and size, less energy is used and more connections are made in a compact space. Everything becomes smaller the connectors and contacts as well. Manually assembling of parts of the increasingly smaller contacts is becoming quite a challenge for the WAAK's employees. To guarantee in the future the proper quality, speed and consequently the output as well, new technology, a new machine for WAAK was necessary.
Good connection guaranteed
At SMANS company the Komax Zeta 633/656 is purchased to automate the difficult work. The new machine automates the cutting of the cable, the shrinkage of the shrink contact and the assembling of the contact in the connector. The machine measures the insertion force by pulling it with controlled force, the machine checks whether the contact is bolted right. This way a reliable connection is guaranteed.
Focus on specialty
Through this new machine definitely no jobs will be lost at WAAK's. When WAAK invests in automation keeping and increasing employment has always been key. An increasingly better quality leads to satisfied customers and sustainability (employment incl.). WAAK's employees are specialized in assembling the cable tree. In this assemblage among other things the cables produced by Komax Zeta are processed. By automating the difficult tasks the assembling process runs more smoothly. The employees focus on their specialty, quality is guaranteed and the output is higher.
About SMANS
SMANS has for years been involved in the project of the Komax Zeta 633/656, such investments are carefully prepared according to the necessary feasibility tests. WAAK and SMANS have taken on the challenge together to record all processes and to configure an optimal machine. SMANS will not only guarantee for the installation and operation, but also the technical support at the highest level for a successful cooperation!
For more information:
WAAK
Heirweg 125
8520 Kuurne
Belgium
T +32 56 36 34 34
www.waak.be
info@waak.be
SMANS NV
Bremheidelaan 8,
2300 Turnhout
Belgium
T +32 14 42 44 01
smans.com
info@smans.com