3D Production Days | Rapidpro
22.06.2022 TOT 23.06.2022
Klokgebouw, Eindhoven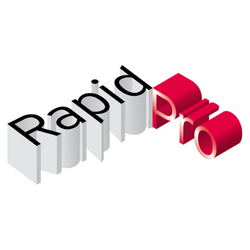 Van 3D model tot eindproduct
3D productietechnieken zijn here to stay! Tijdens de 3D Production Days bundelen vier Mikrocentrum evenementen de krachten onder één dak: RapidPro, het MBD Solutions Event, Virtual (R)evolution en het Smart Maintenance Congres.
Van Define. Design. naar Produce.
Alle aspecten van 3D productie komen aan bod: de 3D tekening met product and manufacturing information (PMI), 3D scannen, prototyping, 3D simulatie, 3D printen / Additive Manufacturing, postprocessing en 3D visualisatie. De 3D Production Days in een overzicht:
RapidPro – 3D scannen, prototyping, 3D printen en andere Additive Manufacturing technieken
MBD Solutions Event – Model Based Definition/3D PMI, CAD/CAM/CAE, 3D TDP
Virtual (R)evolution – 3D visualisatie, Virtual Realty, Augmented Realty, Mixed Reality en Digital Twin oplossingen voor training, R&D en sales
Smart Maintenance Congres – Virtual en Augmented Reality, sensoren en (big) data analyse voor onderhoud
Rapidpro
Welke technieken zijn het meest geschikt wanneer uw productconcept overgaat tot prototyping en de uiteindelijke productie? Tijdens RapidPro ontdekt u een breed aanbod 3D productietechnieken. Denk aan o.a. 3D scanning, 3D printen (kunststof en metaal), laser cladding, FDM, EBM en SLS. Maar ook technieken als CNC frezen, gieten en vacuumvormen.
Welkom bij Smans op stand 90.
Breng een bezoek bij Smans en ontdek de Alpha 140, de nieuwe 3D metaalprinter van Kurtz Ersa.