AQUBE® MV8 sTWIN – Parallel or sequential cleaning of two stencils
31-07-2018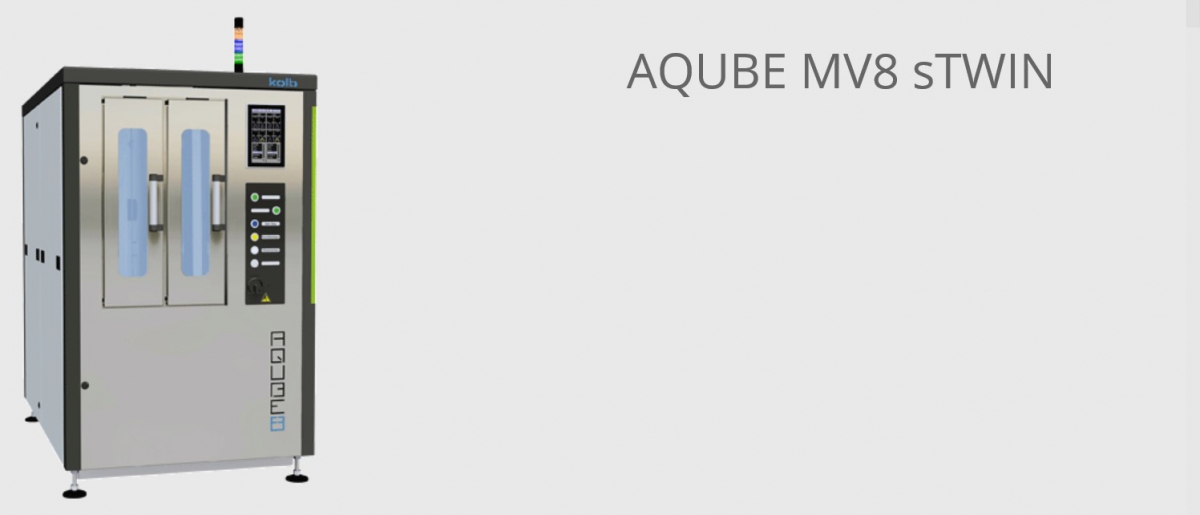 The new kolb AQUBE® systems are next-generation cleaning systems – even more efficient, even more compact, easy to handle and maintain, pre-equipped for extended water management and ready for the smart factory (SF ready).
AQUBE® MV8 sTWIN is a high-end dual chamber PowerSpray® system for the thorough parallel or squential cleaning of two stencils, which provides excellent cleaning results in a short cycle time.
AQUBE® MV8 sTWIN cleans two stencils up to 900 x 800 mm (35 "x 32"), making it especially suitable for large-scale manufacturing. While common systems with double capacity have to wait until two stencils are ready for cleaning or until the running cleaning cycle has ended, AQUBE® MV8 sTWIN can start cleaning one stencil immediately and a second one later (sequential) or in parallel.
---
Highlights
Two full-fledged process chambers for parallel or sequential cleaning
Two tank system with four separate circuits
Digital Factory ready: DNAccess, remote control, traceability (PLC data scanning and memorizing)
Fully automatic 4step process: cleaning, MediumWipe®, rinsing (tap water), drying with warm air
Vertical fourfold rotor system with asynchronous spray rotors for thorough wetting (no blind spots)
XPower magnetic coupled pumping system
Short cycle time (approx. 7 min.) depending on used detergent and contamination
ClosedLoop reprocessing of cleaning and rinsing fluids as standard feature
Water-free operation possible: Instead of water the system can use a suitable cleaning / rinsing detergent for rinsing
Process and service intervals PLC controlled
Event issuing and software control via high resolution 7″ display with capacitive multi-touch
PLC data recording and importing by scanner possible
EDGELESS Design and VARIccess® maintenance access: maximum capacity on a very small footprint
Click here for more information or contact Smans