Take-over of EXMORE distribution by SMANS
02-04-2020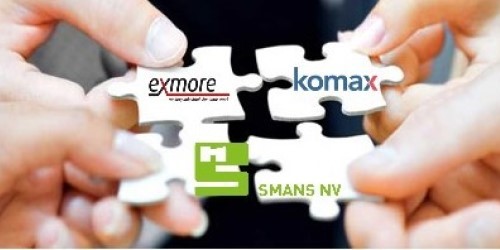 Take-over of EXMORE distribution by SMANS
Covid-19 strikes and is keeping us all occupied. The well-being of us all is the top priority. But we want to look ahead too, as we also see the importance of the continuity of your company.
Continuing to work safely is the best remedy and an absolute necessity. For your familiar product range this means an optimal service is still being guaranteed.
A strong alliance
More good news: a recent take-over means Smans has an even stronger market position. As you will presumably know, Exmore's 'Development & Production' department now forms part of the Komax Group, a market leader in automated wire assembly. Exmore's 'Distribution activities' (Sale & Service) in the Benelux were exclusively entrusted to and have been taken over by Smans.
This means your long-term experience of Komax machines stays in extremely safe hands at Smans. There are even more benefits for you as a customer. We can now offer solutions that we never had in our range before:
Expertise is the clincher at Smans
We are also happy that Bart Van Biesen, sales manager at Exmore, will be coming on board at Smans with all his expertise. He will be further bolstering our highly experienced team from 1 April. He will be on standby for you together with Roy van Alphen and our other staff.
We create added value together. Komax's backing and support will also lead to more innovative solutions in the future. This will mean a significant competitive advantage for your company.
Thank you for your trust, keep following us and till soon. Take care!
Your trusted partner since 1975
Smans NV – www.smans.com