Using Self-Programming Software to Accelerate 3D Inspection
26-07-2018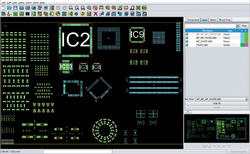 Programming inspection systems can be tedious and time-consuming, but much of this manual effort can be eliminated with new self-programming software. Saki Self-Programming (SSP) requires only a few clicks and takes less than 10 minutes to complete a program. This system can program inspection data criteria, such as name, orientation, parameters, and IPC standards, without the need for a programmer.
Groups of inspection systems can be programmed with a single click. This is extremely advantageous for businesses that focus on new product introductions (NPIs), with customers requesting high-mix, low-volume production with short delivery times. These companies can then generate inspection programs without first preparing a "golden" PCB.
Software is Vital
Although there are many requirements for inspection and measurement systems, it is the software that provides the edge. The software determines the process controls, data capture, measurement capabilities, operation, feedback, reports, and the basic usability of the platform. Software drives machine-to-machine (M2M) communications and is an enabler of the smart factory and Industry 4.0. Programming is one of the main and most important functions of the software. The ease or difficulty of use, accuracy, reliability, speed to program, flexibility, and training required can make or break the decision to purchase a particular system.
"Programming has long been a challenge for inspection companies," says Yoshihiro Akiyama, chief engineer and cofounder of Saki. "Saki had a vision for self-programming software. At the time, it seemed like a far-off goal, but here we are, introducing Saki Self-Programming software. It only requires a few computer clicks and less than 10 minutes. The time, labor and cost savings to companies have proven significant."
Character recognition automatically extracts lighting from OK/NG colors.
SSP is a seamless system that does not require DFM software. It combines technology that captures complete height and x/y data and images, while simultaneously scanning multiple fields of view (FOV). The ability to select from over 300,000 components from Saki's Golden Library offers nearly unlimited possibilities.
SSP, installed on Saki's 3D AOI and 3D SPI systems, makes programming fast, easy, and does not require any special programming skills or training. All the user needs is Gerber and Centroid CAD data. The software does the rest.
Step 1: Click to input Gerber and CAD data.
Step 2: Go to Library Management and click "Generate." The software will automatically assign the components needed from Golden Library. The image of the board appears, populated with components.
Step 3: Click "Generate Recipe."
Step 4: Add optical character verification (OCV) inspection data based on the BOM information.
Step 5: Load, scan and inspect the board. The board's image will appear on the screen.
Features of the software include an OCV collection setting that shows thumbnails of the components and an inspection preset setting, which quickly skips between processes. This offers IPC Quality Standard Setting (Class 1, 2, and 3) with a single click.
"Saki Self-Programming is critical for M2M communication," says Sakie (Jodie) Akiyama, president and cofounder of Saki. "It's part of Saki's smart initiative. To really make smart technology and M2M work, we need smart machines, a smart factory and a smart company. Now, Saki Self-Programming is the first in the industry and not only automates programming, but also the diagnostics, maintenance, inspection, data collection, and extensive reporting functions."
She also says that until now, the accuracy of the inspection process depends not only on the inspection system itself, but on the skill level, characteristics, abilities, standardization, and procedures followed by the programmer. SSP eliminates the variables of the operator and procedures.
Key Features of SSP
Saki's software contains numerous features to improve process quality and control, ensure defect-free products and enhance Industry 4.0 and M2M communications. It includes a solder inspection algorithm with special 2D and 3D hybrid technology that automatically recognizes the defect type and distinguishes it from other solder defects. Character recognition is also supported. Self-diagnostics keep track of the system's time-based and condition-based maintenance requirements. This enables preventive maintenance, reduces overall maintenance and machine downtime, and lowers costs.
The software system completely eliminates the need to have a golden board to prepare an inspection program. An NG image check, before starting auto-operation, maintains the inspection library's performance.
Absolute precision is required to provide the accurate data needed for M2M communications to be effective.
A calibration status report enables the system to output calibration results. Automatic stencil cleaning alerts tell users when the stencils need to be cleaned. A management function monitors the entire assembly process by monitoring each machine's performance on a board-by-board basis and provides analysis of line operation and quality.
Another Step Toward Industry 4.0
Absolute precision is required to provide the accurate data needed for M2M connections to be effective. Inspection equipment plays a role in the feedback from SPI to printer, feed-forward from SPI to pick-and-place, and feedback from AOI to pick-and-place. The concept of the smart factory is to maximize efficiencies and improve processes through automation and self-optimization. An integral part is the ability to collect accurate data and use it for process improvement. Industry 4.0 promotes vendor-independent M2M communication. Saki's software was built around the idea of machine independence in all aspects of its operation.
"As part of the smart and M2M initiative, we have established reliationships with many of the leading companies in the electronics assembly industry, especially pick-and-place and screen printer equipment manufacturers," says Jodie Akiyama. "These collaborations are essential for moving M2M forward, as they significantly contribute to the production of high-quality products and result in a more efficient process."
She points out that Saki was the first company to receive APC-MFB certification for all of its 3D AOI and SPI systems. Other important industry partnerships include Fuji Machine Manufacturing's Smart Factory with Nexim initiative that standardizes the communication protocol between Saki's inspection machines and Fuji's component placement machines. This creates a manufacturing line that extends beyond the boundaries of corporations. The ASYS PULSE community networks Saki's automated inspection and measurement systems with electronic production equipment from other PULSE members.
"Saki takes a proactive approach to standardization of the communication protocol and standards development. As yet, no single standard has been adopted," says Jodie Akiyama. "For our systems to talk with all available systems internationally, Saki adheres to the standards set forth by the SMT equipment communication protocol standardization subcommitte (JARA), as well as the Hermes Standard, which focuses on Industry 4.0."
The Industry 4.0 smart factory is becoming a reality one step at a time. Inspection equipment functions as a sentry, ensuring that devices are being assembled precisely and accurately, that equipment is functioning optimally and that information is reliable. M2M processes can only be as good as the equipment, systems and the software running them.
By Satoshi Otake and Yasuo Watabe, Saki Corporation
Source: US Tech